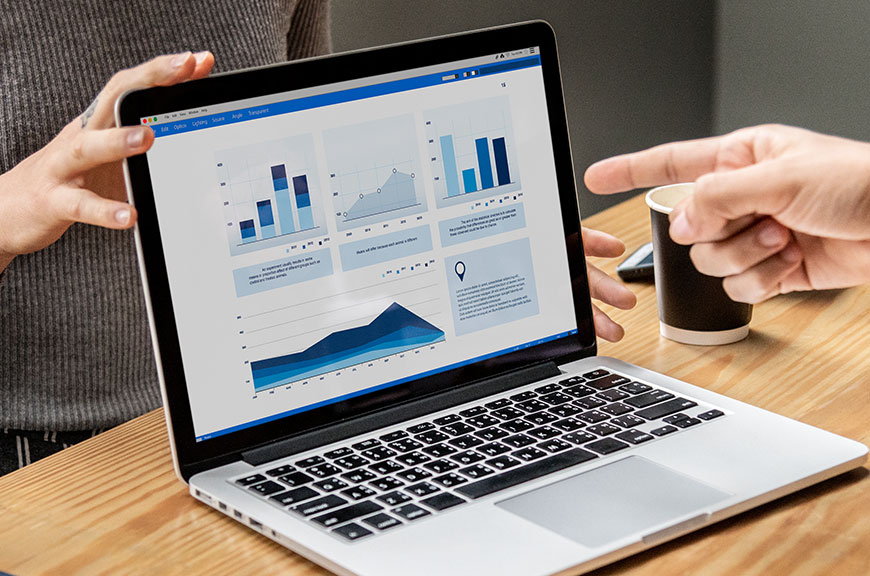 Accounting Services Dubai
Accounting and bookkeeping Services are a vital process in running any business efficiently and profitably. Accounting is a need in each business – regardless of whether it is Proprietary Business, Limited Liability Company, Listed Company or a Multi-National Corporation. Accurate, reliable and timely financial reporting is fundamental for checking business execution just as to follow government guidelines. Overseeing accounting without professional assistance can be a troublesome undertaking. As the financial aspect of accounting is the most prominent and well known of the accounting disciplines, we pride ourselves in our efficiency while still maintaining accuracy of the highest standards.
At RNI Consulting, we offer both onsite and remote accounting services for all type of businesses in Dubai and around areas. We can enable you to satisfy your accounting requirements including payroll processing, while freeing your bandwidth to focus on your core business. Our exceptionally qualified and skilled accountants have in-depth knowledge of accounting procedures across industries. Fully tailored to your needs, you'll get a qualified accountant who'll take time to understand your business and provide valuable financial recommendations.
RNI Consulting offers comprehensive accounting and bookkeeping services to companies who wish to outsource their accounting function. We can enable you to satisfy your accounting requirements, while freeing your bandwidth to focus on your core business. We at RNI take care of very complex accounting system by sending our experienced accountants from our Dubai office to client's place. They are professionally trained to work in almost all popular accounting software like QuickBooks, ZOHO, XERO, Tally, SAP, Microsoft Navision and other ERP. We provide accounting services such as bookkeeping, cash flow forecasting, VAT returns, personal taxation, self-assessment tax, payroll and corporate tax assistance.
Our key services under accounting include:
• Accounts Outsourcing
• Bookkeeping Services
• Virtual Accounting
• Management Accounting
• Financial Projections
• Business Valuation
• Budgeting & Forecasting
• CFO Services
• Financial Statements
• Financial Projections
Accounting and Bookkeeping Services
Bookkeeping is a critical part of accountancy. In any business and organization, bookkeeping and accounting plays an important role as it keeps tracks of all the incomes and expenses of the business. Bookkeeping helps the management to know the areas through which the cash is flowing out of business and the regions through which cash is flowing in the industry.
At RNI Consulting, we provide the best and timely bookkeeping services in Dubai that maintain quality accounting and financial records. Our team provides optimal accounting and bookkeeping services which allows the business to run smoothly and effectively.
Whether you are a solo entrepreneur, start-up business, large business or limited company in Dubai, we do much more than just crunching numbers for you. Let us free up your time, provide a real-time view of your business finances, and help you make the most of available tax relief.
Accounting outsourcing enables businesses to assign the financial management of their business to finance experts in a cost-efficient manner. Accounting outsourcing and financing, if done well, leads to a strong foundation for the business that can further the growth.
Whether you're looking for managed services like outsourcing your accounting function, or assistance in streamlining operations, RNI has tailored solutions to help your small and medium enterprises and businesses in UAE.
Inventory Verification Service
Inventory verification or stocktaking is a process of physically checking the stock and goods present in the stock at regular intervals. Every business must conduct a thorough physical verification of stock at least once in a financial year. Inventory verification service is provided by conducting verification of inventory with proper planning and expertise, thus validating the existence and location of the various inventory possessed by a company.
The process of managing fixed assets is often considered a significant challenge by most businesses.
The movement of assets and the addition of assets need to be recorded properly to avoid misinterpretation, overstatement, or understatement of the financial reports. Moreover, one needs to accurately monitor its location, quantity, condition, maintenance, and depreciation of the assets. At RNI, we comprise a qualified and professional team that will help you manage your assets efficiently and keep track of your assets. Further, our team will help classify them based on several factors such as hierarchy, location, and more.
Preparation of Financial Statements
RNI team can review the accounts to make sure that the accounting is done properly by following the IFRSs and prepare the financial statements based on the requirements of IFRSs. This review process helps the client to rely on the financial information of the company without any doubt and it becomes easy to handle the audits. RNI Consulting has been helping organizations fulfill its major financial tasks by guiding and recommending the best practices for an efficient management while addressing the solution.
We are Always Ready to Assist Our Clients
developing financial processes and procedures
Frequently Asked Questions
What is accounting service?
Accounting service involves the systematic recording, analysis, and reporting of financial transactions of a business. It includes bookkeeping, financial statement preparation, tax planning, and other financial services that help businesses manage their finances effectively.
Why do I need accounting service for my business?
Accounting service is essential for businesses to keep track of their financial health, comply with tax laws, and make informed decisions based on financial data. By hiring an accounting service provider, businesses can focus on their core activities while leaving financial management to the experts.
What types of accounting services are available?
There are various types of accounting services available, including bookkeeping, financial statement preparation, tax planning and preparation, payroll management, and financial advisory services. Businesses can choose to outsource these services to a professional accounting firm or hire an in-house accountant.
What are the benefits of outsourcing accounting services in Dubai?
Outsourcing accounting services in Dubai can provide several benefits, including reducing costs, improving accuracy and efficiency, ensuring compliance with regulations, and save time, as it allows businesses to focus on core operations while leaving financial management to experts.
What is bookkeeping and why is it important for my business?
Bookkeeping is the process of recording and organizing financial transactions in a systematic manner. It involves maintaining accurate records of income and expenses, tracking accounts payable and receivable, and reconciling bank statements. Bookkeeping is important for businesses because it provides a clear picture of their financial health, helps with decision-making, and ensures compliance with tax laws and regulations.
What is the difference between bookkeeping and accounting?
Bookkeeping is the process of recording financial transactions, such as sales, purchases, and payments. Accounting involves a broader range of activities, such as financial reporting, analysis, and tax planning. While bookkeeping is a critical component of accounting, accounting encompasses a wider scope of financial management.
How often should businesses in Dubai review their financial statements?
Businesses in Dubai should review their financial statements regularly to ensure accuracy and identify any areas for improvement. This could be done on a monthly, quarterly, or annual basis depending on the size and complexity of the business.
What kind of software or tools do accounting service providers use?
Most accounting service providers use accounting software, such as QuickBooks, Xero, or Sage, to manage financial transactions and generate reports. They may also use other tools, such as cloud-based storage, document management software, and online payment systems.
How can I improve my cash flow management?
Improving cash flow management involves strategies such as reducing expenses, improving collections of accounts receivable, negotiating better payment terms with vendors, and implementing effective budgeting and forecasting processes. It's important to have a clear understanding of your cash flow needs and to regularly monitor and adjust your strategies as needed.
What are some common bookkeeping mistakes to avoid?
Common bookkeeping mistakes include recording transactions in the wrong account, failing to record all transactions, failing to reconcile bank statements, and using incorrect or inconsistent accounting methods. It's important to stay organized, pay attention to detail, and implement consistent record-keeping practices to avoid these mistakes.